Setting out on a weight loss journey can be a scary experience. With multiple factors to consider such as diet, exercise, metabolism, and even genetics, it can get pretty overwhelming. The good news is, tracking your progress doesn't have to be complicated. This is where the Aura Strap 2 comes in, turning your Apple Watch into an insightful body composition analyzer.
The Importance of Monitoring Body Composition
Stepping on a scale can tell you if you've lost weight, but it doesn't necessarily tell you if you've become healthier. Body composition - the proportion of fat, muscle, water, and bone in your body - is a crucial metric to consider on your weight journey. Here's why:
It allows you to understand how your body responds to your diet and exercise regimen.
It helps to optimize your calorie intake and macronutrient ratio.
It can prevent muscle loss while promoting muscle gain.
It can reduce the risk of chronic diseases and enhance physical performance.
But keeping track of your body composition at home, especially on your weight loss journey, is often easier said than done. Traditional methods can be inconvenient, expensive, or even inaccurate. That's where the Aura Strap 2 shines.
Body Composition Tracking for Weight Loss
The Aura Strap 2 is a revolutionary smart accessory that enhances your Apple Watch's capabilities. By using bioimpedance analysis (BIA) technology, it measures your body's different tissue resistances. In simpler terms, it provides you with accurate estimates of your body's fat, muscle, water, and bone composition.
So, how does it work? You just need to wear the strap, open the Aura app, and press Start. In seconds, a detailed body composition report is displayed on your screen.
Key Features of Aura Strap 2
Realistic Goal Setting: Tailor your goals to your body type and fitness level.
Progress Monitoring: Track body composition changes over time.
Recommendations & Motivational Tools: Get insights based on your progress.
Shareable Data: Keep your coach or loved ones in the loop with your progress.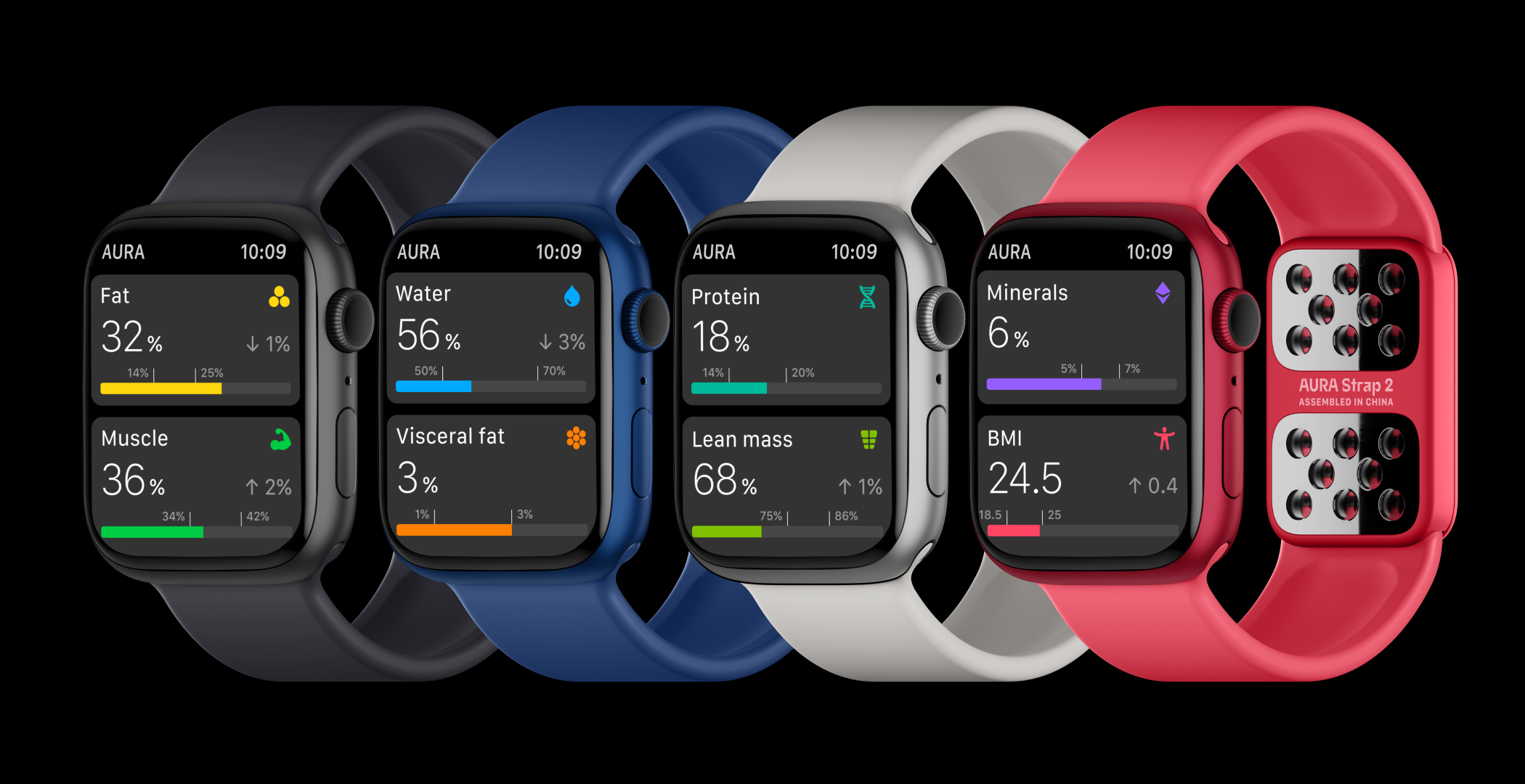 Apple Watch and Aura Strap 2
The Aura Strap 2 works seamlessly with your Apple Watch, giving you a holistic view of your health and wellness. Combined with other metrics such as activity, sleep, and nutrition data, you can understand and improve your body composition like never before on your weight loss journey.
Whether you're looking to lose weight, gain muscle, or improve your overall health, Aura Strap 2 is for you. Its impressive features, such as long battery life, adjustable strap size, splash resistance and updatable firmware make it suitable for any lifestyle, especially for those who are on a weight loss journey.
Frequently Asked Questions about Aura Strap 2
We get a lot of common questions about using the Aura Strap 2. Before we dive into the specifics, here's a quick rundown of some of the top things people want to know when getting started.
Is it safe and secure?
Yes, Aura Strap 2 is totally harmless and uses low-frequency currents that are benign to the human body. It also protects your data privacy by offering encryption so your personal info and data remain secure, which is super important for peace of mind as you use this tool to improve your health and fitness.
Does it work with pacemakers?
Unfortunately no. We don't recommend it for anyone with pacemakers or other implanted medical devices. While bioimpedance tech is safe for most folks, it could interfere with those types of devices.
Is it a medical device?
No, Aura Strap 2 isn't a medical device. It's more of a general health and fitness accessory. It provides helpful data to inform your workouts and meal plans, but it's not intended to diagnose or treat medical conditions.
Begin Your Healthy Weight Loss Journey Today!
With the Aura Strap 2, you can start your weight loss journey armed with accurate, insightful data right on your wrist. Start making informed decisions about your health and fitness today. Journey into a comprehensive approach to wellness with the Aura Strap 2!
Get AURA Strap 2
---
Visit our socials for more useful info:
Instagram
Discord
Twitter
Facebook
LinkedIn